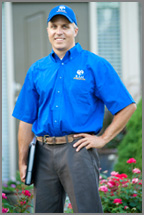 The Best Termite Treatment and Pest Control in Kansas City
When you need termite treatment or pest control services in Kansas City, RAM Exterminators is the company to call. We're the authority on pest control in Kansas City with over
25 years of experience
. Call us for the most reliable pest control and termite treatment in Kansas City.
Kansas City's Most Trusted Pest Control Company
When it comes to Pest Control in Kansas City, RAM Exterminators has you covered. Our licensed exterminators know where to look and can rid your home of anything creepy and crawly - termites, spiders, ants, rodents, cockroaches, fleas, bed bugs, crickets, bees & wasps, silverfish, ticks, rodents, and more! If it's in your home and you don't want it there, call RAM Exterminators. We are the pest control company in Kansas City that you can trust for quality work! Our
#1 priority
is customer service & customer satisfaction. We pride ourselves on fast, professional, and friendly service with a
100% satisfaction guarantee
. Our licensed technicians will thoroughly take care of all of your pest control needs!
Residential and Commercial Termite Treatment
& Pest Control:
Expert Termite Inspections
Because termites live underground, it is not always obvious when your home is infested. It takes an expert exterminator to know where to look and what to look for during a termite inspection. Termites do not like daylight and if they do break through the wood, they immediately cover it over with a cork like material. Unlike other insects, they do not leave sawdust or holes as an easy sign of infestation. At RAM Exterminators, our licensed technicians will give your home the most thorough termite inspection in Kansas City. If they're there, we'll find them and then perform the best termite treatment in Kansas City.
Our Termidor Termite Treatment Guarantees Termites Won't Come Back!
For termite control, there's only one termite treatment that doesn't just repel termites, it kills them completely – Termidor. The secret is the slow-acting formula. It takes 3-5 days for a termite to die after exposure to Termidor. That give it time to expose and pass on the chemical to many other termites. Most infestations are COMPLETELY eliminated within 60 days! How sure are we? We guarantee it! RAM Exterminators offers an industry leading, 5 Year Guarantee that a termite infestation won't come back. Trust Kansas City's Termidor Certified termite treatment company – RAM Exterminators – to get the job done.
Call us now to GET TOUGH on your bugs! (913) 677-2700