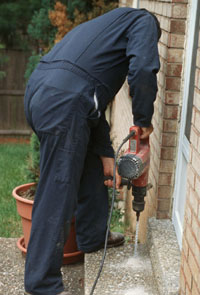 Nicer weather is approaching.  Spring is in the air, but that may not be the only thing. It is also the season for termite swarmers.  These are the warning signal that termites are close. They may be in a tree stump, but they also may be in your house. Are your starting to see mud tubes on or around the foundation of your Kansas City home? Did you spot a few termites when you picked up that piece of wood near your home? Or did you just notice that some boards that you replaced in your basement had some termite damage? If your answer is yes, then the termite home invasion has probably already started. This year has already been a nasty one for the damage that subterranean termites have caused. Once they get in your home, they are almost impossible to get rid of without a professional exterminator like Ram Exterminators. They are the termite treatment company that homeowners in Kansas City trust.
Are Termites Invading Your Kansas City Home?
If you suspect that termites are invading your Kansas City home, it just takes a phone call to find out for sure. Ram Exterminators will come and thoroughly inspect the your home. If they do find evidence of a termite infestation, the technician on site will promptly give you an estimate for termite treatment costs. Feel free to get other estimates or compare costs. Ram Exterminators is very competitive on pricing and very affordable also.
Termite Treatments that Last!
If you decide to let Ram Exterminators treat your Kansas City home for termites, you will not be disappointed. They are certified to use Termidor – a termite treatment that is the number one termite defense treatment. Termidor is a non-repellent and termites tunneling into the treatment zone are killed. Termidor is virtually undetectable to termites. Only a Termidor Certified company, such as Ram Exterminators, has the ability to perform these treatments.
Call Ram Exterminators today to get a safe and reliable termite treatment for your home!